VINYL SIDING OXIDATION REMOVAL
OXIDATION REMOVAL AT A GLANCE
Nearly all exterior surfaces break down because of weather. Including vinyl siding.
When surfaces break down, they fade.  Faded exterior surfaces look bad and reduce property values.
IT'S important to address oxidation immediately.  If not, the pigments will no longer be protected and will "burn out."  Burnt pigments are irreversible.
It's easy to remove vinyl siding oxidation.  Simply choose a premium cleaner advertised to remove oxidation.  Do it now.
Once cleaned, it is important to condition the siding and protect it from happening again.  We recommend Vinyl Renu siding conditioner and color restorer.
Oxidation happens on all siding types.  Metal/Aluminum, Hardie/cement board, Painted Surfaces (even wood).  Use the cleaners and restorers reccomended in this blog to remove oxidation, restore color and beauty and protect the surfaces from the weather.
Taken With Permission From Richard Winget's Amazon Kindle #1 Best Selling Home Improvement Ebook.  
VINYL SIDING is the #1 type of siding sold. It beats every other siding type like an Olympic runner would beat me in a 100-yard dash.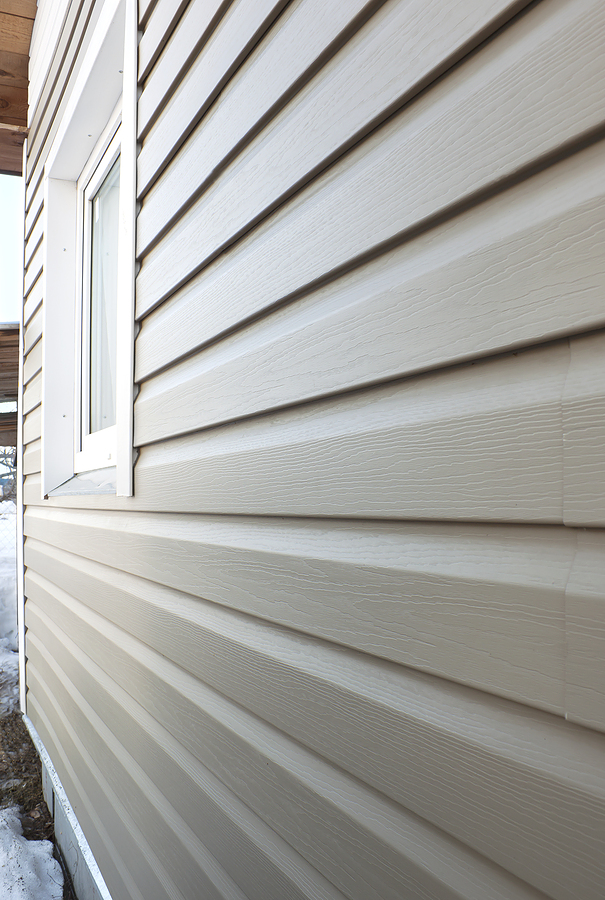 For most of you, beautiful siding is not an option, it's a necessity. No one likes coming home to faded, weathered siding. What's more, great looking siding can increase the value of your home, according to Realtor Magazine.
You always want your home to seem tidy and maintained as a homeowner. The genuine worth of your home, though, might be obscured by a few problems. Vinyl siding oxidation is a problem that many homeowners face. Vinyl siding oxidation can cost you money in the long run in repairs in addition to deteriorating the appearance of your house.
Here are some various methods for cleaning vinyl siding oxidation if you want to improve the appearance of your house.
HOW DO I CARE FOR MY VINYL SIDING?
Always review your siding manufacturer's care and maintenance instructions prior to doing anything to siding to ensure you don't void your warranty. Understanding what's in your siding and how it's made can help you decide which products to use and which to avoid. Vinyl siding is relatively robust and can take most things nature inflicts. However, it can be quite sensitive to things we humans do. Bleaching is an example. Bleach and siding DO NOT mix. Siding is designed to be somewhat flexible to withstand expansion, contraction and impact from hail and other things.
If the surface becomes damaged or brittle, you will have to replace the siding sooner. Brittle siding is no good. The more degradation, the more brittle, the more cracks, the more damage, the more degradation, the sooner you need to replace it...you get the picture. We believe that anything over 5% bleach can cause irreversible damage to many surfaces, not just siding. Avoid bleach unless you are a professional with extensive experience using it.
WHY DO SOME MANUFACTURERS RECOMMEND BLEACH?
Siding manufacturers advertise the that vinyl siding is ultra-low maintenance; and it is. Vinyl siding requires less maintenance than most any other siding choice. But, everything requires some maintenance. There is the quick, cheap way, and there's the proper way to maintain and maximize the lifespan of vinyl siding. Diluted bleach solution is often recommended simply because bleach is cheap and readily available. If you want to use a very diluted solution of bleach on your siding it is crucial to email your siding manufacturer for the maximum concentration of bleach you can safely use so you have it in writing and can refer to it when you clean like vinyl siding oxidation. Our experience, however, is that most homeowners do not find the manufacturer's recommended diluted solution to perform well, so they make a stronger solution, which ultimately causes degradation.
So, if you shouldn't use bleach what should you use like the vinyl siding oxidations? Well, you do not need some exotic $100.00 per gallon cleaner. Our extensive research has narrowed the field to three economical, effective choices. These recommended products do not contain bleach and should be safe for all vinyl siding types and removing the vinyl siding oxidation.
 
Renu Cleaner
Concentrate
Dawn Dish
Soap
Dr. Bronner's
Sal Suds

Effectively removes algae (the ugly green stuff), mold/ mildew, and oxidation (the chalky white stuff). It is water-based, zero VOC, and contains no bleach, so it won't harm siding or plants. Specifically developed for vinyl siding, it is used by major vinyl siding manufacturers and cleaning professionals. This is what I use (I also happen to be the inventor and manufacturer, so I am a bit biased). In fact, I use it on everything: campers/RVs, sidewalks, outdoor fabrics, etc.

Visit www.SealItGreen.com to learn more.

For simple cleaning of siding, it works well if you are just removing dust and pollen from your siding, but not that great for stains or vinyl siding oxidation. Better choices are out there, but in a bind, it will clean and not harm your siding.

Note: It will not remove oxidation, algae, mold/mildew unless you use it with a pressure washer or lots of elbow grease.

This is a good general cleaner. It works similarly to Dawn, in that it does a nice job of removing dirt, pollen and the occasional bird dropping if caught early. I recommend it over Dawn because I find that it performs better than Dawn for most cleaning jobs.

Note: It will not remove oxidation, algae, mold/mildew unless you use it with a pressure washer or lots of elbow grease.
Why Should You Clean Vinyl Siding Oxidation?
In the US, vinyl siding is the most used type of external covering. Because it is a long-lasting, adaptable, and reasonably priced material that is simple to install and maintain, homeowners adore it. However, with time, your vinyl siding and trim can start to show signs of a white, chalky substance.
What you are observing is oxidation or fading. When the polyvinyl chloride (PVC) material is exposed to air and other natural elements, as well as dirt and grime accumulation, it goes through a natural process.
Vinyl siding oxidation has to have removed. In addition to fading and other visual issues, vinyl siding oxidation can cause your outside cladding to degrade or deteriorate. Your vinyl siding can survive for many years if you give it regular care, which also guarantees that it looks excellent.
HOW IS VINYL SIDING INSTALLED, AND WHY DOES THIS MATTER?
Anyone who has noticed a 1-2 inch line at the place where one board overlaps another on their siding, knows there is a reason it's there. It's important to understand the purpose of this overlap if you plan to protect, restore or paint your vinyl siding.
The over simplified explanation is that siding is attached to the house via extra large, elongated holes. The screws or nails are pushed through the holes into the house. Since the holes are large, the siding can expand and contract without popping off your house. Vinyl is different in this way than other building material. Since vinyl siding expands and contracts, a 12-foot board may be an inch or so longer or shorter depending on the current outside temperature. Pretty cool, huh?
HOW SHOULD I PROTECT MY SIDING?
All siding begins to weather and fade as soon as it's installed on your home. In fact, everything fades and weathers when exposed to nature's elements (even a $350,000 Maybach automobile). That's why I recommend protecting it within the first five years of installation; to preserve its beauty and significantly slow the natural degradation process. It is an important step in the installation process. If you are a DIY'er, then protect away. It's simple. If you need to hire someone then you should determine if it's worth the cost. I believe it is. Now that you know more about vinyl siding and how it is installed, we can explore how to choose a product that will protect and preserve it. There are several things to consider when choosing a product.
Now, How to Clean Vinyl Siding Oxidation?
There are many ways to clean vinyl siding oxidation — including doing it yourself or hiring a professional pressure washing company. If you opt for a more DIY approach, here's what you need to do:
1. Check for Signs of Oxidation
On vinyl siding with a deeper tint, you can easily identify the white, chalky material. If your siding is pastel or lighter in color, by rubbing a finger across the vinyl siding surface, you can detect vinyl siding oxidation.
2. Prepare Your Cleaning Solution
Use any of the three(3) solution that was recommended above. But we highly recommend the Renu Cleaner Concentrate for it is proven to remove effectively the vinyl siding oxidation.
3. Rinse Vinyl Siding
To clean your vinyl siding, use a garden hose. This is done to soften any impurities that may have accumulated on your vinyl siding, such as dirt, filth, mold, and other things like the vinyl siding oxidation
4. Wear Protective Gear
Before working with faded or vinyl siding oxidation, be careful to put on safety goggles and gloves. Additionally, you ought to cover up as much of your flesh as possible. The volatile chemical compounds that PVC may release might irritate your skin or eyes. Use cautious when utilizing a ladder as well. It won't be a good idea to hurt yourself now.
5. Apply Cleaning Solution to Vinyl Siding
Spray the cleaning solution to your vinyl siding. Your vinyl siding should be cleaned using the cleaning agent. You avoid the cleaning solution from drying out too rapidly, make careful to work in tiny parts. To clean and remove the vinyl siding oxidation, use a soft-bristled brush or a non-abrasive sponge. To avoid blotchy markings, begin at the bottom and work your way up.
6. Rinse Cleaning Solution
Rinse the cleaning agent with a garden hose. In order to efficiently remove particles and prevent streaking, make sure the water is flowing downward. After that, let the vinyl siding dry.
7. Regular Maintenance
Check for oxidation on your vinyl siding on a regular basis. It will be more difficult to clean up large-scale vinyl siding oxidation, and it could also require more upkeep or repair.
Vinyl siding oxidation may be easily and affordably remedied with this cleaning technique. There are disadvantages, though. It's a highly time-consuming and laborious procedure. Additionally, there's a potential that your initial efforts may not provide the desired outcomes.
Home remedies often involve a process of trial-and-error to determine which cleaning agents are best for removing oxidation from vinyl siding trims and surfaces. Consider the fact that vinyl siding oxidation is a frequent occurrence as well. This method must be repeated multiple times a year.
RESTORE FADED VINYL SIDING
We will be writing an extensive blog on how to restore color to faded vinyl siding. Follow us on our social media to be notified when there's a new blog.

HINT: Vinyl Renu premium vinyl siding restorer will restore color and luster to all faded siding types.